Ocean Fish
 Fishing Prints and Fish Art for sale.
Choose your favorite fishing prints from many of or restored designs.
  Our Fish Art prints and fish artwork are the best quality and variety available. Decorate your home or office with our affordible tropical fish art.
---
 A history of the fishes of the British Islands.
Illustrated with 252 coloured plates. In 4 volumes.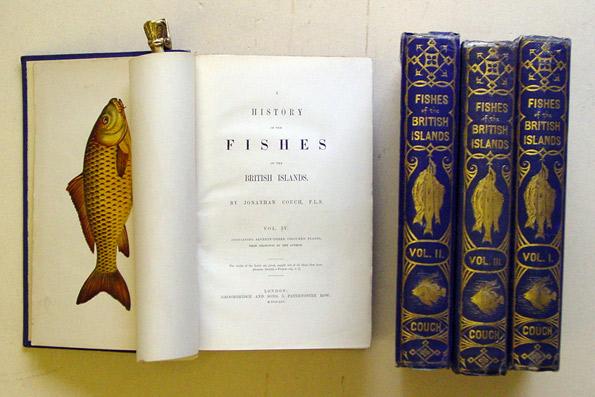 Volume 1
Joanathan Couch was a well-known late 19th century artist, famous for his drawings of fish which were exhibited at many art shows in London & the Provinces, & his drawings filled the volumes of his "History of Fishes." Attractive & finely drawn & colored.

  He trained in succession a large number of fishermen to aid him in his pursuits, and the observations made at and near Polperro during his lifetime and since his death have not been equalled in value at any British station.
He was in correspondence with many of the foremost naturalists, and especially rendered aid to Thomas Bewick and to William Yarrell. Among his local fellow-workers and coadjutors, each of them notable, were C. W. Peach, Matthias Dunn, and William Loughrin. Couch's principal work was done in ichthyology. In 1835 he obtained a prize offered by Mr. J. Buller of Morval for the best natural history of the pilchard, printed in the third report of the Royal Cornwall Polytechnic Society, and also separately. He had before this given much assistance to Bewick in his British Quadrupeds, as well as in relation to his projected Natural History of British Fishes, and Yarrell was still more indebted to him in his British Fishes, to all three editions of which (1836, 1841, and 1859) Couch was a copious contributor
---